Spooky Stains? Fight Fright; Shine Bright
Halloween has arrived; between pumpkin spice, kids' costume parades, and beautiful, color-changing leaves, there are a million reasons to celebrate this season. Unwelcome visitors and fearsome frights abound, including spooky stains in your carpet, which can reappear like specters.
Today our Buildingstars cleaning experts are sharing our carpet cleaning secrets, and how to make annoying stains disappear for good.
Eerie Residues in Office Carpets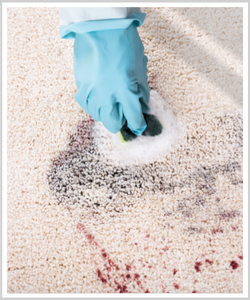 Your haunting office mystery? Strange carpet stains and residues.
If you cleaned your carpeting yourself, it's probable the soapy detergent used to treat dirt and stains left a residue. With soapy solutions used to clean carpets, the focus should be rinsing the soap off the fibers completely and effectively. If the carpet is not professionally cleaned, there can be sticky, unappealing film left on the fibers. This actually attracts dirt and dust. The irony: cleaning can create a more stained carpet than before you cleaned!
Solution: Buildingstars Commercial Cleaning employs expert technicians who have the technology, tools, and knowledge to eliminate even the most troublesome stains. If you are having problems with carpeting or just want a more comprehensive cleaning program, don't hesitate to reach out today!
Fighting Filthy Entry Mats
The first impression of your workplace starts with entry mats, which trap dust and dirt which would accumulate around your space.
Regular, professional cleaning of these entry mats can help your workplace shine brighter. You don't want to frighten potential clients away at first glance!
The chilling consequences of not cleaning your entry mats:
Your finished floor surfaces around your building can be abraded by contaminants from the mats.
Can cause your matting to migrate or become slippery, increasing slipping hazards in your building – be careful!
Moisture makes mat monsters of mildew and mold, which lower air quality and can cause scary smells.
Bone-Chilling Carpet Odors
If you have carpeting in your building, you may not know how the soft fibers can trap grime and odors. Consider yourself lucky if you have never dealt with the ghoulish terrors of stinky carpets.
To clean odor from your carpet, fill a spray bottle with white vinegar and spray the affected area. Wait 20 to 30 minutes, then use a clean, dry cloth to dab. Finish by dabbing with a wet rag to remove the rest of the vinegar, and a final wet, clean cloth to finish.
If the odor won't stop haunting your facility, now may be the time to call in the experts. From regular carpet maintenance to deep carpet extraction, our scientific cleaning methods will bust those odors and keep your building smelling fresh!
Let Buildingstars Help You Shine Brighter
Halloween is the time to embrace fun frights, not disgusting workspaces: and a mess can really scare people away from your office. In 2021, cleaning is more important than ever to visitor impressions of your business! A recent survey by the International Council of Shopping found that consumers ranked frequent cleaning and sanitizing as the top (66%) measure that would make them more likely or more comfortable with visiting physical spaces at businesses.
Reach out today to schedule your free cleaning consultation, where an expert will explore every square inch of your commercial property to ensure we can clean it to the highest standard, and give you your no-obligation estimate.