Why Cleaning Works For Any Company: Part 1
Cleaning is a dirty business. But it's the dirtiest business you'll ever love! In this blog post series, we'll explore how cleaning can positively affect any company and its bottom line.
This first installment will focus on why cleaning works for any company; part 2 will focus on the practicalities of implementing a professional service into your office or building; and part 3 will show you how to get started with finding the right professional cleaning service for your space. So stay tuned to find out more about how getting organized might be just what your company needs!
Skip to the good part… get the expertise: if you would like a Buildingstars representative to come speak to you about your cleaning program and how we can support your efforts, contact us today.
How Commercial Cleaning Works for You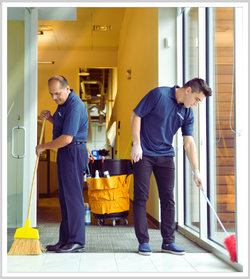 Cleanliness and order help to create a positive workplace environment that motivates employees and attracts new hires. According to Forbes Magazine, "We spend almost a third of our lives in the office, and in order to find and retain top talent, it's essential for companies to foster an environment that empowers people with the right space to work, think and collaborate naturally."
In addition, research from Harvard Business Review has shown that our physical environments significantly influence our emotions and behavior, affecting everything from decision-making to office relationships. Don't make the mistake of ignoring a dirty workplace's impact on employee stress!
It can be difficult for an office manager or business owner to keep up with the day-to-day tasks of running their company, so it is important they find ways to delegate as much as possible.
Unless you are already a champion of the commercial cleaning industry, you are probably unfamiliar with the best practices for workplace cleaning. From the most effective methods for cleaning carpets to strategies to eliminate bathroom and kitchen bacteria, professional cleaning technicians provide a wealth of expertise. Hiring professional cleaners is seen as an essential way to take some stress off your plate and give you more time for other things like handling customer problems or growing your business.
Businesses are under more pressure than ever nowadays to help prevent the spread of disease, and a quality cleaning program will help. A trustworthy commercial cleaning service alleviates worries about your facility's cleanliness and gives you the peace of mind to focus on your bottom line.
Cleaning Prevents Office Absenteeism and Presenteeism
By preventing the spread of germs and diseases in your office, commercial cleaning can reduce absenteeism due to illness. But… we all know what absenteeism is and why it occurs; you may not know: what's presenteeism? According to the Harvard Business Review:
"Presenteeism, as defined by researchers, isn't about malingering (pretending to be ill to avoid work duties) or goofing off on the job (surfing the Internet, say, when you should be preparing that report)… [it's] the problem of workers' being on the job but, because of illness or other medical conditions, not fully functioning. "
Nobody expects to be in perfect health year-round, so how big a problem are we really talking about here? A 2012 study by The Integrated Benefits Institute, a health research organization in San Francisco, California, found that absenteeism and presenteeism combined cost the U.S. economy $227 billion each year. Some studies even find presenteeism can be more harmful to a business than absenteeism!
Commercial janitorial services can reduce occupants' exposure to contagious viruses and bacteria, reducing illness in the workplace and combating these issues head-on. Instituting a comprehensive commercial cleaning program can therefore result in productivity gains at your office.
A Cleaning Company You Can Trust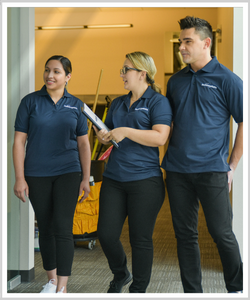 The best way to start your company's journey into the benefits of cleaning is by contacting a professional office cleaning service. Office managers can focus more on their duties and less on small tasks like sweeping, vacuuming, dusting and mopping. This will also help reduce presenteeism (attending work when sick) and absenteeism (missing work because of illness). As such, companies who hire an office cleaner are faced with fewer illnesses among employees, which means they save money in healthcare costs while reducing lost time due to sickness. Booking professional cleaners for your business not only makes sense financially, but it also improves workplace morale and wellness.
At Buildingstars, we've been a professional cleaning partner for our customers since 1994. We've built trust with our customers by providing consistent cleaning, constant communication, and value. We've understood for 28 years that cleaning is about more than appearance – it's about your business' health & your bottom line.
Click here to learn more about how Buildingstars can keep your office healthy and safe, or request a free, no-obligation cleaning consultation by clicking the button below: