What's a Good Cleaning Services Quote?
Is your office getting a fair cleaning services quote? Since the cost of commercial janitorial services varies based on many factors, it's sometimes difficult to tell.
At Buildingstars, we have established scientific processes we follow when creating the custom scope of work for your facility. A cleaning services quote from us will take into account your specific building and needs, while never requiring you to compromise.
Finally get the answer to your burning question, "How much does commercial cleaning cost and why?"
Size of Facility Space
When determining your monthly cleaning services quote, commercial cleaning companies look at the size of your facility first. To do this, Buildingstars sends a representative to meet you at your facility. While there, we measure all areas, taking special note of the flooring, fixtures, and any other specialized cleaning needs. We walk every foot of the building to guarantee we can give you an accurate appraisal.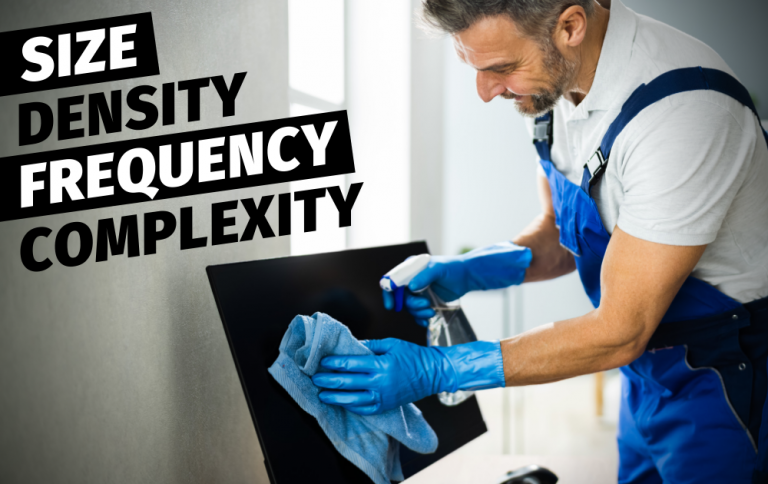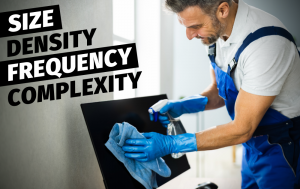 Facility Density
A higher density facility means more wear and tear, thus a greater need for cleaning to have an attractive and healthy workplace.
If you're managing a high-density facility, you have enough worries already without toilet paper running out, so make sure to ask your current cleaning partner about the plan to help you manage refilling cleaning supplies. At Buildingstars, we have a custom refill plan available for every facility, managing the ordering of supplies such as paper towels, hand soap, and toilet paper. We worry about the nitty-gritty so you can focus on the big picture and shine brighter.
A clean building is a more productive building; click to find out our favorite workplace benefits of keeping it clean.
Cleaning Frequency
Professional janitorial services can be a race against time, as your assets will always become dirty with repeated use. At Buildingstars, we create a custom cleaning schedule for your facility, so if you're not sure what you need, we'll tell you what we think would help you most.
Make sure your commercial cleaning team is frequent enough to be taking care of those tasks which disproportionately build up if not handled, such as:
Carpet care! If not vacuumed correctly, soil and other debris accumulates and starts to abrade the dye on your carpet fibers. Good, frequent vaccuuming can prevent this. Avoid faded carpet and make sure your cleaning frequency plan includes regular preventative carpet maintenance.
Window blinds gather dust like any other surface – make sure your cleaning service is dusting window blinds on a regular basis so that dust cannot turn into dirt, which is much more difficult to wipe off without damage to the blinds.
Your cleaning frequency plan should include tasks like these, as well as how often and when your cleaning team is expected.
Complex or Unique Office Features
Features such as break rooms and bathrooms require more attention to detail than most. In addition, they require more technical cleaning procedures compared to hallways, offices and waiting rooms. Some of these specialty procedures include color-coding to prevent cross-contamination and the use of medical grade disinfectants.
Bathrooms typically take up only 5% of overall square footage yet can account for up to 50% of your cleaning scope –  it's an everyday task which requires special attention and becomes very prominent when ignored. Similarly, it's important to pay careful attention to windowsills, tops of restroom partitions, and indoor glass features.
At Buildingstars, we talk in depth with you before we create your customized commercial cleaning plan. Our scope of work tells you precisely what's being done and the frequency of the task – and we make sure every stakeholder has a copy. If your cleaning services company isn't providing this level of attention to detail in the scope, how can you be sure they'll be meticulous with your cleaning?
Special Services in Commercial Cleaning
Requesting special services such as a one-time deep clean or specialized flooring care will impact your commercial cleaning quote price. Many facilities require a floor care program to maintain and further enhance the appearance and safety of the building.
Floor care programs could consist of refinishing of hard surface floors, or periodic carpet cleans. At Buildingstars, technicians are MISCO certified to properly and safely care for all types of flooring.
Is Your Cleaning Quote Fair?
Now that we've talked about the factors that determine pricing rates, let's talk more about your cleaning services quote.
Most companies will send someone to physically inspect and measure your space before giving you a quote, which is a process recommended by Buildingstars. However, not every cleaning company does this exactly the same way. Watch out for red flags during the visit such as:
No formal measurement taken
No notes taken
The representative is not dressed professionally
The representative was not punctual
The quote is much lower than every other quote you have received – this "pricing to get in the door" strategy does not have the overhead to ensure customer satisfaction
No dedicated quality control/account management
To guarantee that you are getting a fair quote, consider all the factors listed in the article. Beyond that, make sure you trust the employees that will do the work and the supervision they will have. Find out how employees are chosen and screened to get a full picture of the work that will be done for your facility. Trust is key when handing over your building keys.
Finally, you may want to consider reading 4 Ways to Identify Your Unique Cleaning Needs before getting in contact, so you can be the ultimate expert on your own cleaning needs.
Professional Commercial Cleaning Services
As we've discussed, your janitorial services rates can vary with a multitude of factors. At Buildingstars, we assess your needs specifically before providing a quote. If you already have a cleaning services partner and aren't sure if they're following the appropriate steps to identify and handle all of your cleaning needs, you should contact Buildingstars.