What is Commercial Cleaning and How Does It Help?
Commercial cleaning is more popular now than it was in April 2020, but why has it become such a hot topic? It's surprisingly simple: in 2021, people are more aware of the health and safety concerns of their surroundings. Their worries can be alleviated by hiring regular, professional cleaning services. Forbes Magazine listed a clean, germ-destroying environment as their top priority for a return to the office strategy in their article "To Bring People Back, The Office Must Change,"
Your office may not be safe (enough). It's likely your office has always been safe and clean, but with new attention to cleanliness and germ transmission, your office may not measure up anymore based on new (and lasting) employee demands and expectations.
Employees want a safer environment, which commercial cleaning can help you provide. But – what does "commercial cleaning" mean?
What is Commercial Cleaning?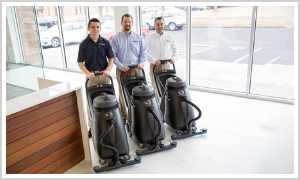 Cleaning of commercial properties such as offices, medical offices, dentists, surgery centers, banks, etc. is known as commercial cleaning.
This type of cleaning is necessary for environmental hygiene, especially as it affects the safety of commercial spaces. At Buildingstars, we are proud of our experienced and meticulous technicians, who spare no effort to ensure a safe and sparkling-clean facility.
How Does Commercial Cleaning Help?
Every facility has a varying need for different commercial cleaning services, from basics like trash removal to specifics like intensive floor care. Each service targets a hygiene need for the overall health and safety of the facility. Regular attention from cleaning professionals helps reduce the spread of germs by removing dust, grime, and other contaminants from porous surfaces.
Our trained Buildingstars technicians know how to assess and deliver on every cleaning need. To the untrained eye, a facility may look easy to clean, when in reality it may be filled with hidden challenges which require an expert.
The benefits of hiring a commercial cleaning service don't just end with expertise. You're investing in lasting, superior results for the cleanliness and health of your facility when you choose Buildingstars as your trusted cleaning partners. For more, read When is it Time to Outsource Cleaning Needs, where we discuss in-depth how specialized, professional cleaning attention can help you – or request cleaning services today by clicking below.
How Does a Cleaning Company Save Businesses Time?
When you are calculating your return on investment for your company, the time spent by salaried and hourly workers on tasks is incredibly relevant – why should cleaning be the exception to maximizing your efficiency? In fact, Buildingstars offers cleaning services which establish time-saving processes that prioritize your facility's health and safety. This means that they will do the job of cleaning your office, industrial workspace, or medical facility, so that you can spend your time focusing on the most important parts of your business.
Our team of professional, trained cleaners save you time and protect your assets from wear and tear, and Buildingstars guarantees a complete, meticulous service every visit, every time.
You Can Schedule Commercial Cleaning
If you have your commercial cleaning company scheduled for a regular cleaning appointment, you can save time and energy by not having to do the job by yourself! When you consult with Buildingstars, we will provide a customized and specific cleaning schedule so you can stop worrying about the nitty-gritty and leave the dust devils to the experts.
However, for offices which have a lot of seasonal employees or fluctuating work hours, you may want a more flexible cleaning schedule. The best way to figure out the best commercial cleaning schedule for your business is to work with a commercial cleaning company who truly takes the time to understand your business priorities.
Let Buildingstars Provide Cleaning Supplies
Your cleaning chemicals and other reusables can run out unexpectedly, leaving you with a mess you can't fix. Luckily, there's a simple solution to keeping your work spaces clean and tidy worry-free: hiring a commercial cleaning service.
Every business requires cleanliness, and never more than in 2021, when customers are truly considering their risk and health when attending any space outside of their homes. Never worry about buying cleaning supplies when you partner with Buildingstars. From the account manager specifically assigned to you, which is rare in the commercial cleaning industry, to our cleaning supply restocking options, we can take care of it all for your business!
This means that cleaning supplies will be automatically provided by Buildingstars. Our highly skilled technicians bring everything with them, such as chemicals and tools, to ensure your business shines brighter.
We Inspect All Areas Regularly
In cleaning, it's the small details which make the biggest difference for the hygiene and appearance of your facility. When clients visit your business, they want to know their health and safety are in good hands. One way to show them that you care is through regular cleaning inspections by a professional commercial cleaning service.
In our first walkthrough, Buildingstars experts detail all cleaning projects and areas in a specific, customized schedule, so you can understand how your facility's cleaning needs are being covered from all angles. By using this type of regular cleaning schedule, you can ensure that you are going to keep your facility clean, well-maintained, and hygienic for all visitors.
Commercial Cleaning Increases Worker Productivity
Employees are more productive when their work spaces are clean, and a good commercial cleaner can help you achieve this. Through regular cleaning, a commercial cleaning company can remove the sources of dirt, dust, grime, germs, and other nuisances.
Commercial cleaning will leave you with a clean, hygienic environment that will benefit your employees and impress your clients.