Top 4 Ways Businesses are Preparing for Safety and Success in 2021
As we wrap up 2020 and celebrate the holidays, it's important to understand how the business trends of this past year will inform growth in 2021. Tech trends took over during the unprecedented COVID-19 pandemic, especially with employees working from home, but as your team returns to the office after the holidays, what can you do to make sure you're prepared? 
While there are many who can't wait to say goodbye to 2020, there's no doubt that looking in the rearview mirror and understanding the new zeitgeist will help businesses rise to the challenges of 2021- whatever they may be. Here are the top four ways you can make sure your business is healthy, clean, and successful: 
1. Personal Protective Equipment
According to a Gallup Poll, 39% of workers say nearly all employees were back in the workplace this July. 58% say they use personal protective equipment, up from 43% in April – and businesses are increasingly turning to technology to ensure their workers feel safe at the office. 
From employee wellness to intensive COVID-19 planning, managers all over the world are implementing new precautions and programs. 
Organizations are doing everything they can to make sure the undue health risks to their team are minimized. To stay competitive and attract top talent, employees have more rigorous expectations for health, cleanliness, and safety.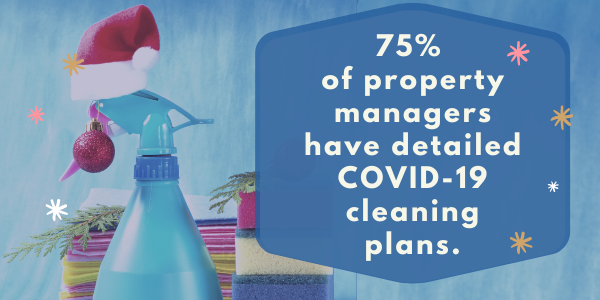 2. Coherent and Comprehensive COVID-19 Policies
Businesses need to institute a coherent, comprehensive COVID-19 policy in order to maintain the safety of their employees and keep everyone on the same page. 
With constantly changing local, state, and national regulations, employers need to feel empowered to take their COVID-19 responses into their own hands. Proper expectations and rules regarding what to do during a potential exposure will be crucial in 2021.
A recent DCS Global survey (October 2020) found that the majority of property and office managers have already implemented detailed, written plans on how to effectively and efficiently clean the property. 
"Approximately three-quarters of [property managers] have detailed, written pandemic cleaning plans in place, and almost all are communicating their cleaning efforts to employees, tenants and visitors." -Randy Burke, DCS Global CEO
Do You Have a Cleaning Plan for 2021? 
At Buildingstars, we've been a professional cleaning partner for our customers since 1994. We've built trust and long term relationships with our customers by providing consistent cleaning, constant communication and value. We've understood for 26 years that cleaning is about more than appearance – it's about health and safety. 
If you are in the process of reopening your business and you have questions or would like a Buildingstars representative to come speak to you about your cleaning program and how we can support your efforts, contact us today!
3. Rethinking Workplace Layout and Interior Design
As employees are filtering back in from work from home to the office setting, they are finding many changes in their workplaces. 
If you own a business in 2021, it's important to ask yourself – what must change, and how can we adapt our space to the new norms of working during a pandemic? For businesses who don't have the space to give employees a lot of distance, many are turning to barriers and regular cleaning for a stopgap.
Open office layouts, which appear in almost 70% of businesses today, force proximity to a team which now feels ill-advised. Spaces that may have been fascinating or trendy in 2020 are being redesigned and reconsidered for safety and cleaning efficacy purposes. 
4. New Commercial Janitorial Services Tech and Frequency
Many employers are increasing their cleaning frequency, and looking into new technologies and methods of cleaning for 2021.
Buildingstars has always prioritized sanitization and disinfection, but the COVID-19 pandemic and the importance of regular disinfection have underscored how critical commercial cleaning companies are in a worldwide battle against an outbreak. 
More than ever before, employees want to feel safe in their workplace, and regular, dependable deep cleaning can empower both employees and employers to mitigate viral spread and keep the highest safety standards. Some new cleaning technology trends we expect to continue in 2021 include electrostatic sprayers using commercial-grade disinfectant, fogging, and HVAC air quality monitoring. In general, we expect the demand for commercial janitorial services to continue to grow in 2021. 
2021: Recovery and Growth
As businesses continue to adjust to the reality of new health and safety expectations, the most sure path forward will be underscoring that you truly care about customers and clients through communicating these values effectively and often. Regular cleaning and disinfection services, reassessing workplace layout, and creating a cleaning plan are all vital to making a business run safely and smoothly in 2021. Happy Holidays, and have a joyful new year!