Keep Your Office Safe and Employees Happy
Business owners and office managers will need to find ways to keep your office safe from coronavirus and other communicable diseases. Employees expect a clean and safe work environment now more than ever.
Everything about COVID-19 has been unprecedented. Since the pandemic began in 2020, the world has been fighting to contain the outbreak. From shelter-in-place orders and quarantines that kept people at home to new social distancing measures, how we do business changed fundamentally in America.
Businesses across most industries felt the impact immediately in 2020 as sales and revenue dropped precipitously. The federal government issued stimulus plans to allow employers to keep their employees on payroll and subsidized state unemployment for those employees who were laid off.
Now, many states are lifting their quarantine orders and businesses are returning to work – with stipulations surrounding social distancing and employee safety.  State policies seem to change on a weekly basis as we transition back to the new normal. Returning to work won't mean returning to the way it was pre-COVID.
Employees May Be Nervous About Returning to the Office
Many employees are nervous about a return to work and possible risk of infection. According to a recent survey conducted by Robert Half, 79% of employees expect better cleaning procedures to be provided by their employers. According to Paul McDonald, senior executive director of Robert Half, 
"Managers should use any time of transition to reassess priorities and make meaningful change that improves the work environment. The pandemic is causing fear and anxiety, and employees will want reassurance their employer is prioritizing health and safety.
But it's not just employees who need to be concerned – according to the National Law Review, employers will likely face liability for their actions taken before, during and after COVID.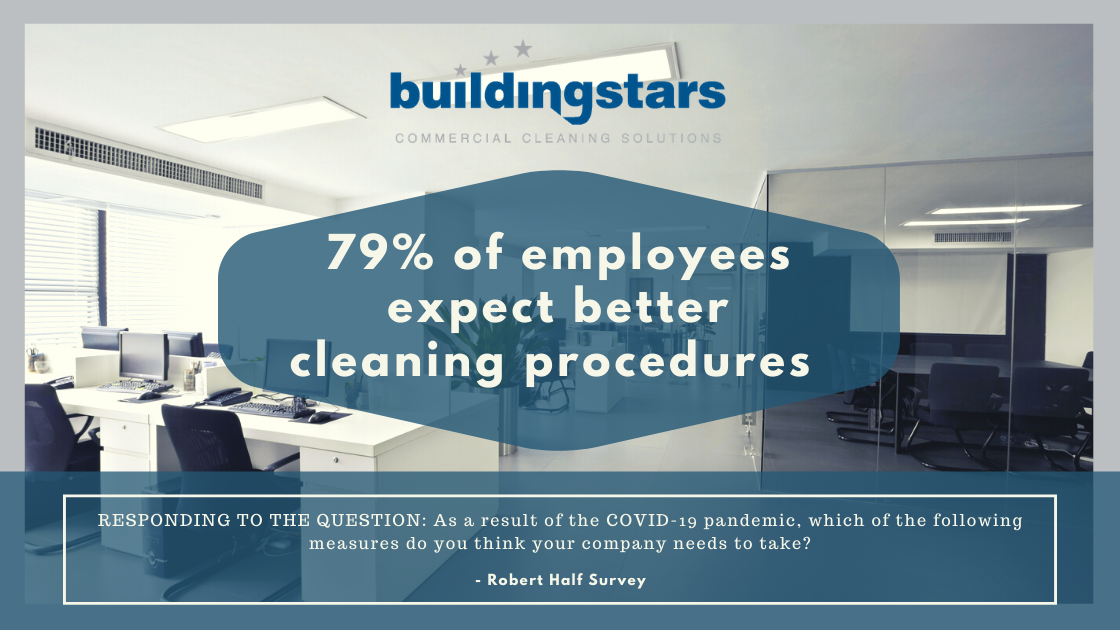 OSHA guidelines require that employers furnish employees with "employment and a place of employment, which are free from recognized hazards that are causing or are likely to cause death or serious physical harm." In addition, employers are responsible for providing adequate PPE (personal protective equipment) and ensuring the safety of any sanitizing or disinfecting chemicals used. 
As a business owner or manager, it's important to understand what you can do to protect your staff and customers. Consider the sources of information you use when making these decisions. A best practice would be to reference the guidelines for re-opening and information provided by the CDC (Center for Disease Control). You should also speak to your cleaning company and determine how they can support your efforts during this time.
A Cleaning Company You Can Trust
At Buildingstars, we've been a professional cleaning partner for our customers since 1994. We've built trust and long term relationships with our customers by providing consistent cleaning, constant communication and value. We've understood for 26 years that cleaning is about more than appearance – it's about health and safety.  
There have been a lot of claims in the cleaning and health industries that have tried to capitalize on people's fear. According to Consumer Reports, it's important to beware of products touting false coronavirus claims. In the words of Peter Lurie, M.D., who used to work at FDA and is now president of the Center for Science in the Public Interest, 
"If something seems too good to be true, it probably is…If something happens to claim effectiveness for the immediate health scare, it probably is not effective. If it were, we would've heard about it, and it would be headed to the FDA for potentially rapid approval."
One claim that our customers are hearing is that businesses need to fog or use some kind of electro-static spray prior to returning to work. According to the CDC, 
If your workplace, school, or business has been unoccupied for 7 days or more, it will only need your normal routine cleaning to reopen the area. This is because the virus that causes COVID-19 has not been shown to survive on surfaces longer than this time.
Rather than looking for a silver bullet, businesses need to use a comprehensive approach. This includes quality cleaning (disinfecting touch points, increasing the frequency of cleaning, and ensuring proper chemicals and processes), personal hygiene, social distancing, and following guidance from federal, state and local authorities. 
If you are in the process of reopening your business and you have questions or would like a Buildingstars representative to come speak to you about your cleaning program and how we can support your efforts, contact us today.