How to Hire a Commercial Cleaning Service
When it comes down to it, running a business is a lot of hard work. Between managing employees, ensuring that customers are taken care of, and keeping the books in order, there's often not enough time to worry about the small things. That's why so many business owners turn to commercial cleaning services to take care of the day-to-day tidying up. But what can a professional cleaning service do for your company? Plenty – read on to find out how best to implement this tool in your business!
The practicalities of implementing a professional cleaning service into your office or building can be intimidating, so we've broken it up into four sections: what to look for when hiring a commercial cleaning service, the benefits of cleaning, how to make the most of your commercial cleaning service, and how to determine cleaning program success.
Skip to the good part… get the expertise: if you would like a Buildingstars representative to consult with you about your cleaning program and how we can support your efforts, contact us today.
What to Look For: Hiring a Commercial Cleaning Service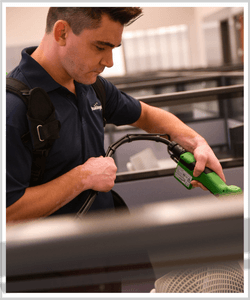 When considering a commercial cleaning service, the first thing to do is decide what type of work you need. For example: a smaller building might only require trash removal and carpet services while larger buildings will likely require specialty cleaners for diverse reasons such as heavy soiling or biohazards that cannot be cleaned by hand alone.
Next, check for safety measures. When you hire a professional cleaning company, it is important that they are certified and have skilled workers. From understanding how to read Product Safety Sheets to PPE certifications, there are many safety hazards to cleaning you wouldn't normally consider. To understand hazard prevention, make sure to ask the cleaning company what safety measures they are using to protect their workers and your facility.
Last, make sure you are receiving affordable quality by receiving a comparable cleaning services quote. There are many factors that determine your quote, but we take all aspects into consideration when providing estimates so there are no surprises later down the road with low-quality service or overpriced items. For more on how to understand your cleaning services quote, click here.
You deserve the best, so why take a risk? Book with Buildingstars: request your no-obligation estimate by clicking below:
The Benefits of Having A Commercial Cleaning Service in Your Workplace
When done correctly and efficiently, cleaning can have a huge impact on your profitability. For example: when you hire someone to clean your high-density office building they might only need three hours of their time; however if that same task is given out as separate tasks with different employees then those workers would likely require 8-12+ hour days just for cleanup! This not only wastes money by taking your employees' focus and time, but also creates tension between tidy and neat office workers.
Leave the cleaning to the pros and you might be shocked by the seemingly-endless benefits of a clean office. According to Kathleen Vohs, a psychological scientist from the University of Minnesota:
"Prior work has found that a clean setting leads people to do good things: not engage in crime, not litter and show more generosity."
It can be difficult to maintain a clean and welcoming office, but the payoff is huge. A workplace that you are proud of will reflect your values to employees, visitors, and even potential clients. Our team of experts at Buildingstars are trained on comprehensive, scientific cleaning processes so you can be certain you're putting your cleanest foot forward.
How to Make the Most of Your Commercial Cleaning Service
Doing a once-through of your building is the best way to help you understand what might need to be adjusted, so make sure to check out the cleaning job after it's finished. Check areas that may be a little harder to spot, or easy to ignore. Look for cobwebs in corners, and check for stains on the hardware in your bathrooms and office kitchen. Doing a once-over will help you identify areas that may need a little extra attention next time.
To ensure your facility is being adequately cleaned, it's important that you communicate with the cleaning service team regularly. At Buildingstars, we assign a dedicated account manager who will work closely together with our professionals and make sure they are meeting all of your needs! They will review your personalized cleaning schedule with you, so you feel empowered to assess the efficacy of the work. Every team member at Buildingstars strives every day to help your building shine brighter.

Request a free, no-obligation cleaning consultation by clicking the button below:
How to Determine Commercial Cleaning Program Success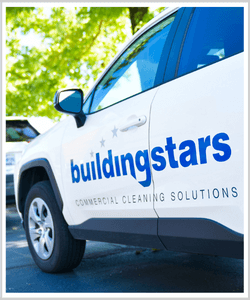 Successful commercial cleaning programs are effective because they create a healthy and happy workplace environment for employees. If your team members say that the space is too dirty, or your team is always calling out sick, then you may want to consider a switch.
By choosing Buildingstars, you can be confident that we will always provide top-quality service with consistent comprehensive cleaning and excellent communication. For 27 years, our team at Buildingstars has delivered value to your business by handling the nitty-gritty so you can focus on your bottom line.