5 Must-Haves For Your Office Desktop
A well-organized workspace is key to being productive at the office. Here are five tips on desk essentials that will help you get the most out of your workday.
We all know the feeling of spending hours at an office desk, professionally navigating projects, phone calls, and other responsibilities. Here's some advice that will help you make your desk at work feel more like home:
Don't Forget the Coasters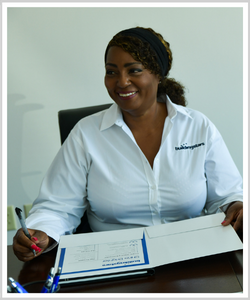 Whether you drink coffee, tea, or water, a quality coaster will help you avoid harmful water rings and prevent sticky spills! You're free to stay focused on your duties, as your refreshing drink of choice can be enjoyed in peace. Coasters come with different shapes to suit any décor preference; it's fun to choose which ones you like best!
A New Vision
Investing in a large, quality external computer monitor is one way to ensure that your eyes stay healthy and happy. If you use a laptop for long periods of time, it's easy enough just plugging this device into an external screen when needed. In addition, a laptop or monitor stand will keep your screen at eye level, reducing strain on your neck and shoulders. If you often find yourself hunching over your desk, this is a great way to improve your posture.
Somewhere That's Green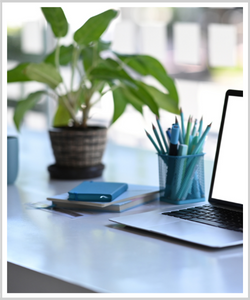 One of our favorite simple ways to brighten up your space and stimulate creativity is with plants! Not only will they look great, but choosing the right plant can also help you relax when working from home or at an office desk job where there's little natural light. Even if we don't have a green thumb, we can choose convincing fake plants. This way, our brains can still enjoy all the benefits without worrying too much about accidentally killing the office plant.
Let There Be Light
Desk lamps can provide both task lighting and a calming ambiance. Choose one with an adjustable arm so you can direct light where you need it most. Some people prefer a bright light that will help them stay focused, while others prefer a softer light that won't strain their eyes. Luckily, you can always switch out the light bulbs to your preferred luminescence! And for a bit of fun, select a lamp with a funky shade.
And Avoid the Rest
Clutter is the worst! It won't just make your life harder, but it'll also take away from all that time you could be spending on productive tasks. So: if clutter has been getting out of control in the office, consider investing in whatever organizational tool you may need, like drawers or shelving, a personal assistant, or a cleaning service that keeps your desk clear. While it may seem difficult to keep up with, the habit of keeping a clean desk is worth the time and extra effort!
Request a free, no-obligation cleaning consultation for your office by clicking the button below: